TOUGHBOOK A3
Android Powered Rugged Mobility
The most rugged and powerful Android TOUGHBOOK A3 tablet from Panasonic, this fully-rugged mobile device promises flexibility and a host of features to meet a wide range of business and logistical needs. It is designed to help mobile workers in all markets cope with the toughest tasks in the field. But it is also the perfect solution for a multitude of other challenges faced by those working in emergency services, the automotive and transport industries, and other environments including warehouses where forklifts are key.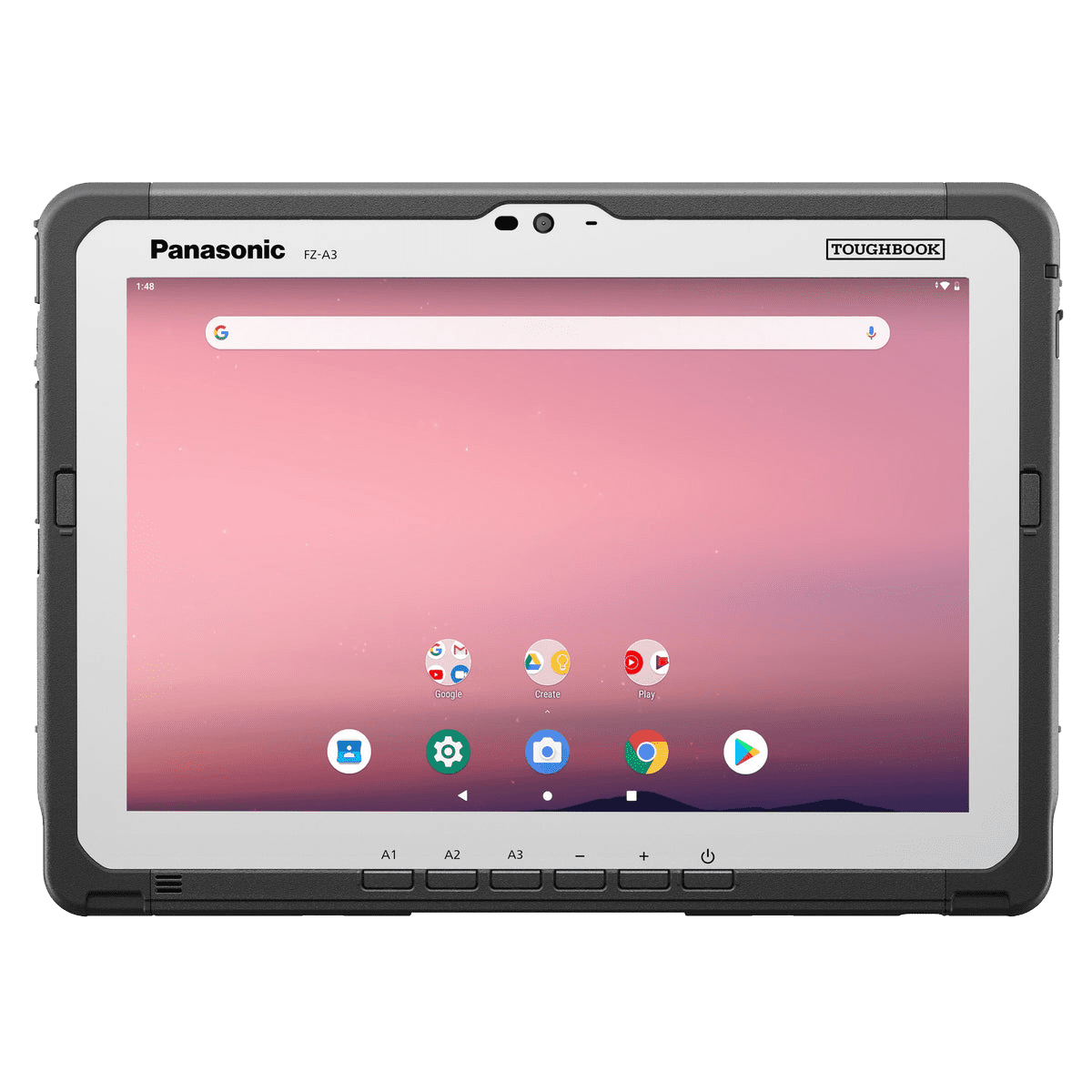 MIL-STD-810H certified, IP65 dust and water resistant
1
10.1" WUXGA 1920 x 1200 multi touch display
2
8MP rear camera, 5MP front facing camera
3
Product Details
Panasonic's decision to strengthen its Android lineup was based on strong consumer demand. Built on the efficacy and successes of the popular A2, the TOUGHBOOK A3 is MIL-STD-810H-certified and tougher than its predecessor. It is also able to work longer hours in the field. Launched in 2020, the A3 has a powerful battery life of nine hours with its standard battery. But this can be extended to 15.5 hours with optional large batteries that have dual battery capabilities. Intended for workers who frequently face changing weather and light conditions, the device has an anti-reflective screen that enables easy viewing in all circumstances. The 10.1-inch touchscreen display has a 10-point capacitive multi-touch with rain-sensing and glove-touch modes. It may also be used without a glove or with a passive stylus pen. There are three customizable gadget port options that may be used in five different combinations. This allows the A3 to be tailored precisely to individual requirements. These include the use of an additional USB as well as the optional SmartCard and barcode
A3 Highlights
Works with the Android 9.0 (Pie) operating system.
The CPU is an industry-leading Qualcomm octa-core processor.
There is 4GB of RAM as well as 64GB of eMMC storage. Additional storage is available with an optional storage card.
IP65 certification for water and dust resistance.
A 6-foot drop rating and tumble tested with 500 tumbles at 3.3 foot 5 rpm.
Two cameras: 8MP rear camera with LED flash and 5MP front-facing camera.
Dual standard battery operation enabling hot swap with clock backup.
Wireless options include Bluetooth, GPS, NFC, and optional Sierra wireless AirPrime. Certified with FirstNet, Verizon, and AT&T.
Built-in sensors for ambient light, digital compass, proximity, gyro, and acceleration.
Integrated microphone and 94dBA loud speaker.