TOUGHBOOK 55
Rugged Laptop for Demanding Applications
Hugely versatile, the semi-rugged TOUGHBOOK 55 is the ideal choice for the most demanding, unpredictable environments. It boasts an unprecedented battery life of up to 38 hours and has been dubbed the workers' best friend. Its innovative modular design and proven reliability make it the perfect communication tool for a wide-variety of mobile professionals seeking a traditional laptop.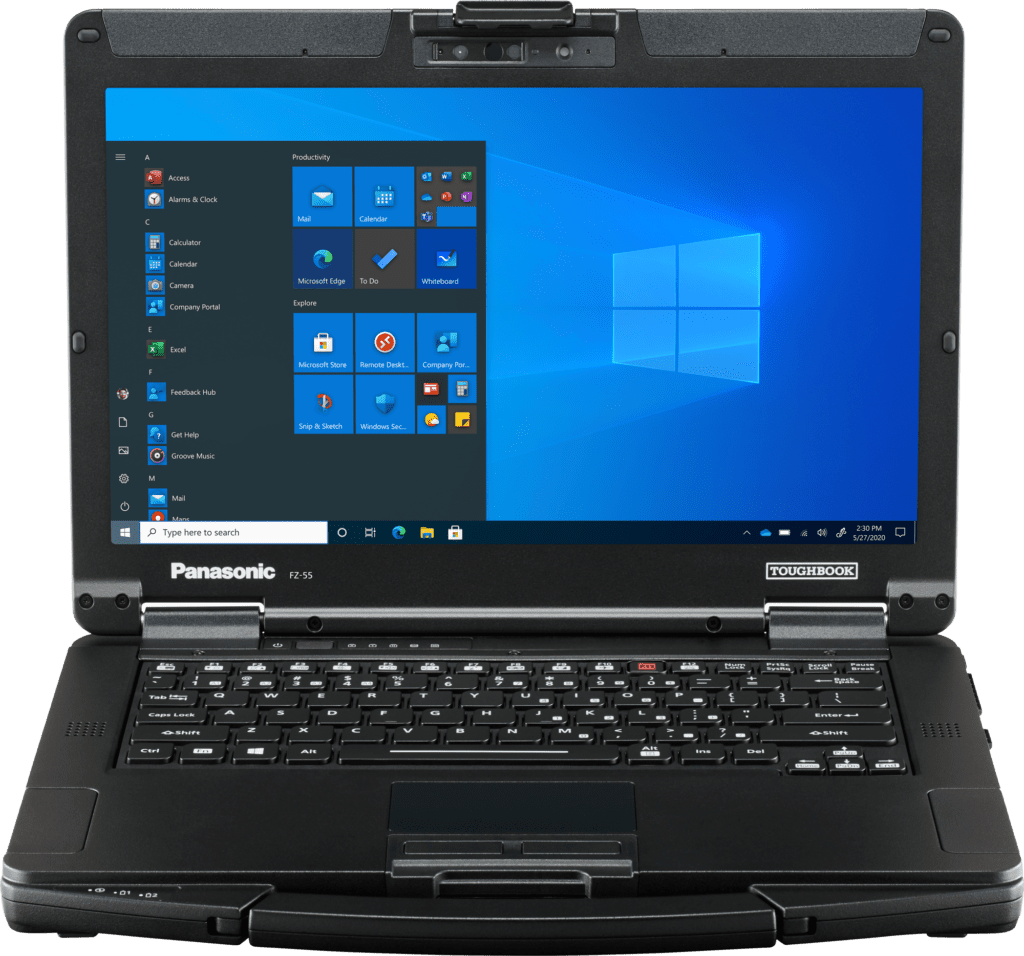 STORAGE RAM:
User-upgradeable 16-64GB
SSD Harddrive: Main - 512 GB, 1TB or 2TB SSD
Optional 2nd Drive - 512GB or 1TB SSD
1
DISPLAY & GRAPHICS:
14.0" HD 1366x768
14.0" FHD 1920 x 1080
Intel UHD Graphics - Intel Iris Xe Graphics
2
BUTTONS AND CONNECTORS:
Backlit keyboard
User-removable keyboard
Touchpad with multi-touch
3
BATTERY:
Li-ion battery: HD Model: 19 hours
Touch FHD model: 18 hours
Optional hot swap 2nd battery
4
CAMERA:
1080p with privacy cover
Tetra-array mic
5
Product Details
The TOUGHBOOK 55 is an epic game-changer that is built with state-of-the-art technology. The Mk2, launched at the end of 2021, offers the latest Intel 11th Gen vPro quad-core processors and unparalleled customization. Users have access to expansion ports to upgrade storage, memory, and other features. There are a host of invaluable options including a second SSD, fingerprint reader, optical drives, and legacy 9-pin serial and VGA ports. Security is also exceptional. In addition to Intel Hardware Shield, it has highly accurate speech recognition that is unmatched by other systems. Intel vPro, which comes standard with the TOUGHBOOK 55, allows for remote management too. Catering for those who commonly find themselves in extreme, demanding conditions, the TOUGHBOOK 55 offers the option of 2 to 3 USB-A ports, a possible USB-C Thunderbolt, or Rugged Fischer USB connectivity. It is also approved and certified for use on FirstNet, the dedicated wireless data network designed for U.S. first responders and others working in the realm of public safety. Whether you need to cope in emergencies or simply work efficiently in any situation, the TOUGHBOOK 55 provides a proudly-Panasonic device that will do all of this and more.
Weighing in at 4.6 or 4.9 lbs (depending on the model), it is the lightest, thinnest device in its class.
Can be imaged with Windows 10 Pro or Windows 11 Pro.
Wireless specifications include Wi-Fi 6, Bluetooth, optional GPS, and optional 4G LTE.
Certified for use on Panasonic's P180 global wireless connectivity platform without roaming fees.
State-of-the-art technology includes tetra-array microphones, infrared webcam, and privacy cover.
Innovative design incorporates 6 user-removable expansion areas including RAM, SSD, and 3 xPAK sections for unparalleled customization.
Standard battery life of 19 hours and up to 38 hours with an optional 2nd battery.
Touchscreen sensitivity that allows users to work in all conditions including rain and snow.
The laptop's magnesium-alloy casing is MIL-STD and IP53-certified.
Backwards compatibility with the first generation TOUGHBOOK 55 desktop and vehicle docks.
Let out TOUGHBOOK experts build your TOUGHBOOK 55 today!
More About The TOUGHBOOK 55