Panasonic TOUGHBOOK Laptops, Tablets, 2-in-1's and Handhelds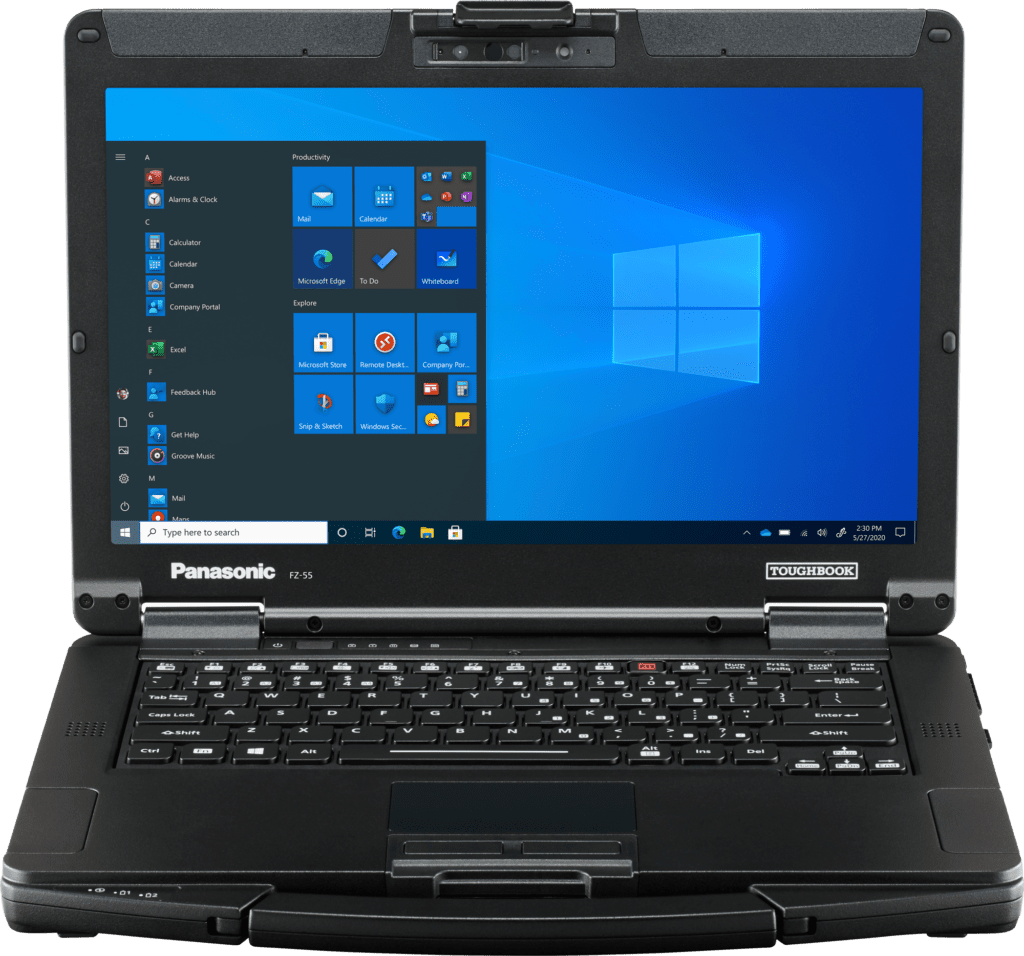 STORAGE RAM:
User-upgradeable 16-64GB
SSD Harddrive: Main - 512 GB, 1TB or 2TB SSD
Optional 2nd Drive - 512GB or 1TB SSD
1
DISPLAY & GRAPHICS:
14.0" HD 1366x768
14.0" FHD 1920 x 1080
Intel UHD Graphics - Intel Iris Xe Graphics
2
BUTTONS AND CONNECTORS:
Backlit keyboard
User-removable keyboard
Touchpad with multi-touch
3
BATTERY:
Li-ion battery: HD Model: 19 hours
Touch FHD model: 18 hours
Optional hot swap 2nd battery
4
CAMERA:
1080p with privacy cover
Tetra-array mic
5
View Details
5MP Webcam w/privacy cover & tetra-array mic
1
14.0" Full HD Display with 1200 NIT brightness, capacitive touchscreen, and a 1920 x 1080 resolution
2
Palm rest expansion area to quickly add a contactless smartcard reader or fingerprint scanner
3
Optional Rubber Backlit Keyboard
4
Optional integrated 4G LTE or 5G Sub6, C-band with true mmWave
5
View Details
CAMERA:
1080p webcam with privacy cover and dual array mic
8MP rear camera with autofocus and LED flash
1
DISPLAY & GRAPHICS:
10.1" WUXGA 1920 x 1080
Intel UHD Graphics
2
BUTTONS AND CONNECTORS:
8 tablet buttons with On-screen keyboard
Optional emissive backlit keyboard
3
STORAGE RAM:
16GB or 32GB
SSD Removable Harddrive: 512GB or 1TB
4
View Details
CAMERA:
1080p webcam with privacy cover and dual array mic.
8MP rear camera with autofocus and triple LED flash.
1
DISPLAY & GRAPHICS:
12.0" QHD Display
Intel UHD Graphics
2
KEYBOARD:
Optional emissive backlit keyboard
3
BUTTONS AND CONNECTORS:
7 tablet buttons with On-screen keyboard
4
BATTERY:
Li-ion battery - 10 hours
Optional 20 hour battery
5
STORAGE:
RAM: 16GB or 32GB
SSD Harddrive: 512GB or 1TB
6
View Details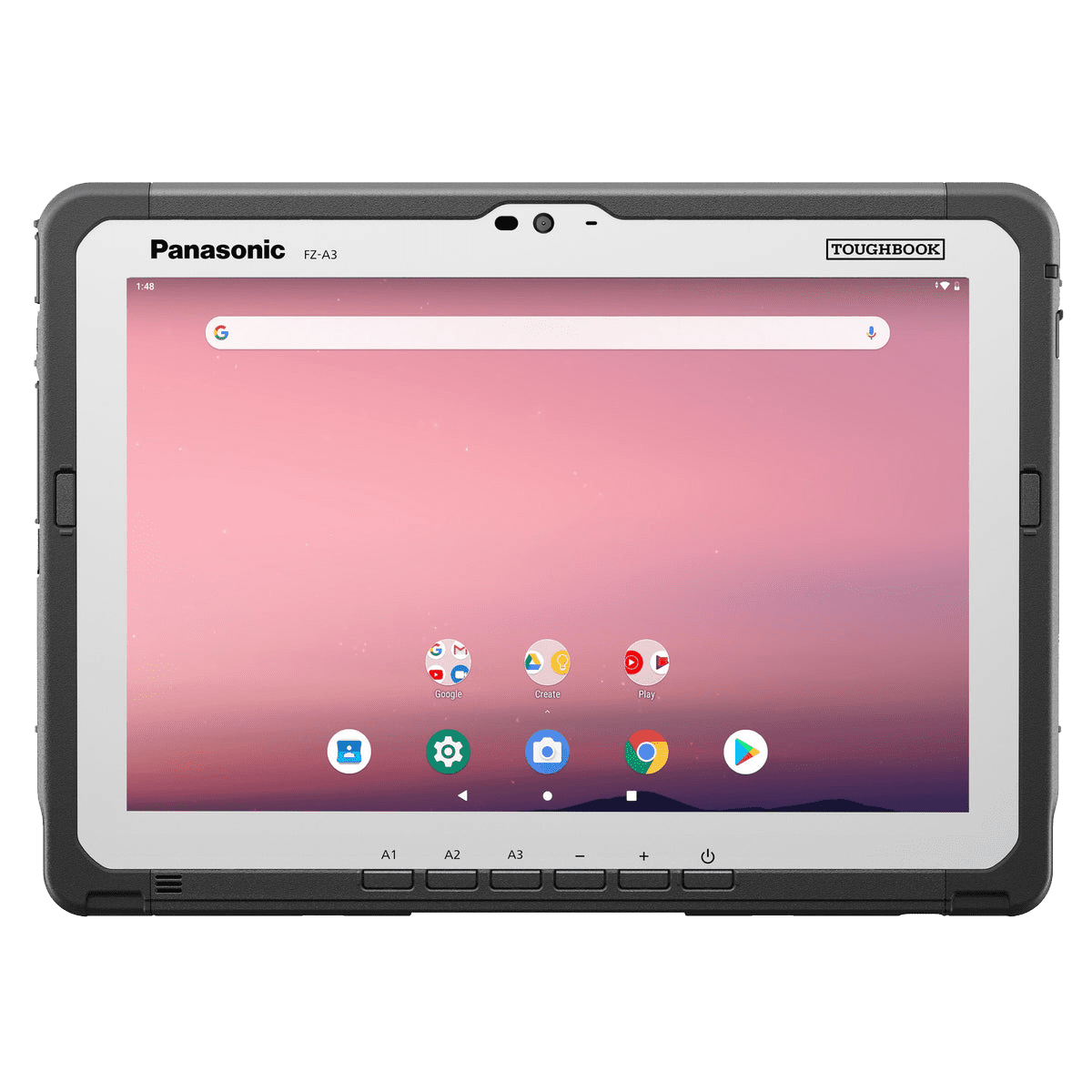 MIL-STD-810H certified, IP65 dust and water resistant
1
10.1" WUXGA 1920 x 1200 multi touch display
2
8MP rear camera, 5MP front facing camera
3
View Details
7" HD sunlight viewable screen with patented rain mode, glove touch and multi-touch
1
Warm swap battery function with up to 14 hours of battery life
2
FirstNet Ready™ and supports Band 14 connectivity
3
View Details
Dual SIM multi-carrier 4G LTE data support with cellular voice capability
1
MIL-STD-810G, 7' Drop, All-weather IP66 and IP68 Dust and Water-resistant design
3
View Details
HAVE QUESTIONS?

Drop us a quick line and a TOUGHBOOK expert will reach out to discuss which device and solution is the right fit for your unique needs.
Find Out More
REQUEST A QUOTE

Already know what you need? Fill out our detailed RFQ and quickly receive detailed pricing and availability.
Start My Quote
About Rugged Depot
Panasonic's Largest Dedicated Mobility Partner
Rugged Depot has decades of experience helping customers source, deploy and maintain mobile computing solutions across a wide variety of industries. As a Diamond Level authorized mobility partner with Panasonic, our team of seasoned experts combine unmatched product and supply chain knowledge with the right ecosystem of services to deliver what mobile professionals need, when they need it. Rugged Depot also specializes in vehicle mounting solutions from Gamber-Johnson, Havis and RAM-Mount as well as mobile printing solutions from Brother. Call, chat or email us today to see how we can help.
Purpose-built and rugged for your extraordinary work.
Your work is extraordinary, and your devices need to match you step for step. That's why we offer industry-leading rugged laptops and 2-in-1's that are trusted by hardworking people in the toughest environments anywhere.
Find Your TOUGHBOOK
Our Services
At Rugged Depot, we are committed to providing the highest level of customer service. Our dedication to our clients begins with our friendly and knowledgeable staff, who will work with you every step of the way to ensure that all your needs are met. We also make sure that any questions you have are answered quickly and accurately in order to make the process as smooth and stress-free as possible. Let our team of TOUGHBOOK experts help you get the right computer for the task at hand.
Get in Touch